Description
SEIKO Astron SSE043J1 Specifications :
Brand
Seiko
Model No.
SSE043J1
Model Year
2015
Series
8X Series Dual-Time
Gender
Men
Driving system
GPS Solar
Caliber No.
8X53
Case
Titanium
Ceramic Bezel
Case coating
Super-hard coating
Glass material
Sapphire crystal
Glass coating
Sapphire glass with Seiko's proprietary super clear, anti-reflective coating
Dial color
Blue
Band
Titanium with super-hard coating
LumiBrite
Hands and Index
Accuracy
+/-15 seconds per month (without receiving a time signal and at temperatures between 5℃ and 35℃)
Water resistant
10 bar / 100 ATM
Magnetic resistance
4,800 A/m
Case thickness
13 mm
Case diameter
45 mm (without the crown)
Special Features
GPS controlled time and time zone adjustment
Dual-Time with AM/PM indication
Perpetual calendar correct to the year 2100, Signal reception result indication
World time function (40 Time Zones), Daylight Saving Time function, Power save function
Weight after packing
approx. 3kg
What's Inside Box
1x Seiko Astron SSE043J1 GPS Solar 8X Series Dual Time Titanium
1x Manual Book and Instructions
1x Seiko Warranty Card
1x Seiko Astron Box
The world's first GPS solar watch
By connecting to the GPS network, the new Astron adjusts at the touch of a button to your time zone* and, by taking all the energy it needs from light alone, never needs a battery change.
*For the time zone information of your caliber, please refer to here. If there are changes in the region/time zone, manual time zone selection may be required.
---
Dynamic movement of the hands, which can sense the connection with satellites
When GPS signals are received, the second hand starts moving, indicates the number of satellites, and then displays the current time.
It is an emotional moment, feeling an identification with GPS satellites 20000 km away.
---
Whenever the dial is exposed to bright light, the watch automatically receives GPS signals. When the watch is concealed under a sleeve and the dial cannot receive enough light, the watch stores the time of the previous successful manual time adjustment or time zone adjustment, and automatically starts time adjustment at the same time.
---
High reception performance of an exclusive Seiko ring antenna
An exclusive Seiko ring antenna placed under the dial ring is suitable for automatic reception as it can easily receive signals regardless of posture.
---
Design
12-hour sub-dial with a separate AM/PM indicator
With the new Dual-Time caliber, you can read not only the time where you are, but also the time in your home time zone on a simple 12 hour sub dial, a new feature for Astron.
---
Dual time with AM/PM indication, day and date.Everything the global traveler needs.
---
A stylish and luxury indexes
Metal indexes adopted to complement the hands are finished separately to provide enhanced metallic texture and luxuriousness.
---
The operation of the watch is made simple by the electronic setting function in the crown.
---
Strong and highly-visible hands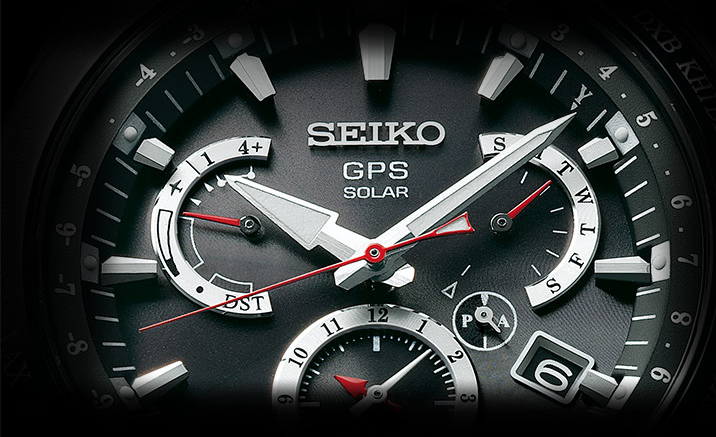 Wide and strong hands greatly increase visibility.
---
The cases are polished by hand to be distortion-free, using Seiko's unique Zaratsu technique, so that there is sharpness in every light reflection.
---
COMFOTEX
The bracelets are composed of individually designed links and are therefore tapered perfectly to the wrist for maximum comfort, however and wherever you may travel.