Description
SEIKO 5 Sports SRPF75K1 Specifications :
| | |
| --- | --- |
| Features | |
| Driving system | Automatic with manual winding capacity |
| Caliber number | 4R36 |
| Case material | Stainless steel with black hard-coating |
| Case back | Transparent with screw |
| Case color | Silver gunmetal with printed Nara's clan kamon |
| Band type | Strap |
| Band material | Nylon |
| Band color | Grey and green |
| Band width | 20 mm |
| Clasp | Buckle |
| Dial color | Grey and black with mesh-like ring |
| Glass material | Hardlex |
| Hands | Luminous black grey and silver tone (hour, minute, second) |
| Dial markers | Green shogi-shaped indexes with dots at 6, 9 and 12 o'clock position |
| Second markers | Minutes markers around the outer rim |
| Lumi Brite | Hands and hour markers |
| Bezel | Unidirectional rotating black colored stainless steel with mark of Shikamaru's outfit and his earrings |
| Crown | Pull out between 3 and 4 o'clock position with side protection |
| Calendar | Day of the week and date display at the 3 o'clock position |
| Function | Date, day, hour, minute, second, stop second hand |
| Drive duration | Power reserve approximately 41 hours |
| Accuracy | +45 to -35 seconds per day at normal temperature range (5°C and 35°C) |
| Magnetic resistance | 4,800 A/m |
| Water resistance | 10 bar water resistance (100 meters / 330 feet) |
| Vibrations | 21,600 vibrations per hour (6 beats per second) |
| Size | Length : 46 mm x Diameter : 42.5 mm x Thickness : 13.4 mm |
| Weight | 93 g |
SEIKO 5 Sports SRPF75K1 Features : 
Introduced in 1968 and re-born in 2019, Seiko 5 Sports has offered a wide variety of durable and reliable mechanical watches for watch lovers of every age for over half a century. Today, there are seven new Seiko 5 Sports creations inspired by two leading Japanese animations, NARUTO and BORUTO. NARUTO was first broadcasted in Japan in 2002 and then introduced abroad, and has since fascinated fans throughout the world. BORUTO is the sequel to the series and centres on Naruto's son, Boruto Uzumaki.
Shikamaru's "Shadow Possession Jutsu" is perfectly reflected in the dial of this watch. The Black colour scheme with green accents and the mesh-like dial ring are consistent with the character's attire. The indexes are designed in the shape of his favourite Shogi game pieces, and the case back carries the Nara Clan's Kamon.
Limited Edition of 6,500 pieces.
Calendar day and date display
LIMITED EDITION on the case back
Screw case back
See-through case back
Serial number engraved on the case back
Unidirectional rotating bezel
24 jewels
Stop second hand function
SEIKO 5 Sports SRPF75K1 Special : 
SHIKAMARU
This creation is inspired by Shikamaru who comes from the same village and fights together with Naruto.
DIAL & INDEX
Shikamaru's "Shadow Possession Jutsu" is perfectly reflected in the dial of this watch.
The Black color scheme with green accents and the mesh-like dial ring are consistent with the character's attire.
The indexes are designed in the shape of his favorite Shogi game pieces.
BEZEL
The bezel features the mark on his outfit as well as his earrings.
CASE BACK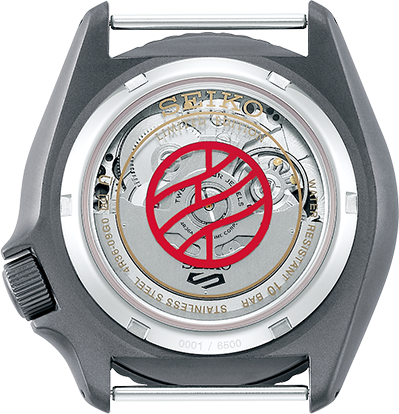 On the case back is printed the Nara Clan's Kamon, and a serial number from 0001/6500 to 6500/6500 as proof of it being a limited timepiece.
* In an actual product, the case back direction might be different from the photograph.
SPECIAL BOX
Each watch will come with a box inspired by the Earth and Heaven Scrolls from the Chunin Exams, a widescale examination used to test the skill of junior Ninja.
About Seiko 5
Seiko 5. Bold designs that speak volumes about those who dare to wear the Seiko 5. The inspiration lies in the edgy designs and dramatic colours, that come together with an innovative automatic movement that defines the very spirit of a Seiko 5.
From the very start, Seiko 5 was a watch whose performance would serve the demanding needs of the new 1960's generation, who cared less for tradition and more about life. The watch had five key attributes :
1. Automatic winding
2. Day/date displayed in a single window
3. Water resistance
4. Recessed crown at the 4 o'clock position
5. Durable case and bracelet
The technology behind the legend
From the start, Seiko 5 was designed to break the mold of watch performance and to bring to the young 1960's generation a watch that belonged to their age and that fitted into their lives. As perhaps never before, young people of the day saw no limits to their aspirations. Seiko 5 needed to be a watch that could go anywhere and everywhere. The first challenge was durability. To be durable, a watch needs to be impervious to two threats; water and shock.
Water resistance was built in as standard to every Seiko 5 watch, and metal bracelets were used so that, from buckle to buckle, the watch was resistant to water and sweat. Shock resistance was assured with two Seiko inventions. First, the mainspring was made from "Diaflex," an unbreakable alloy, and the "Diashock," system was created to protect the movement from shock within the case.
Legibility was the next vital attribute. Today, we take for granted that day and date are presented in a single window but, in fact, this was an idea built in to Seiko 5 to enhance the legibility of the dial. The genius create a unique system that allowed both day and date to be shown in one plane.
The final challenge was to create a distinctive look that defined the brand. Thanks to the extraordinary Seiko invention of the 'Magic Lever,' the winding efficiency of Seiko 5 is very high, and the wearer rarely needs to use the crown. So the designers made it smaller and hid it under the lip of the case at 4 o'clock, giving Seiko 5 its signature look.
History of Seiko 5
Seiko began producing its Seiko 5 line of automatic watches back in 1963. Since then watch enthusiasts around the world have come to recognize Seiko 5 as reliable, affordable and well respected watches. Over the last 50 years Seiko has produced thousands of different models in the line.
History of Seiko
The company was founded in 1881, when Kintarō Hattori opened a watch and jewerly shop called "K. Hattori" (服部時計店 Hattori Tokeiten) in the Ginza area of Tokyo, Japan. Eleven years later, in 1892, he began to produce clocks under the name Seikosha, meaning roughly "House of Exquisite Workmanship".
The first watches produced under the Seiko brand appeared in 1924. In 1969, Seiko introduced the Astron, the world's first production quartz watch, it cost the same as a medium-sized car. Seiko later went on to introduce the first quartz chronograph.