When Seiko's founder Kintaro Hattori was born in 1860 in central Tokyo, Japan was undergoing massive social and industrial changes as it took its place on the world stage after more than two centuries of self-imposed isolation. It was a time of opportunity and no-one grasped its significance more than Kintaro. At the age of just 17, he set up his own timepiece repair business at his home and, just four years later, he founded his own company, repairing, importing and selling clocks and watches.
Under his leadership, his fledgling "start-up" grew to be Japan's pre-eminent timepiece manufacturer.
It was with good reason that he soon became known in Japan as the "King of watches in the East".
Today, Seiko proudly celebrates the life, career and achievements of its founder with a limited edition Astron GPS Solar watch that exemplifies to perfection Kintaro's vision that Seiko should always be "One step ahead of the rest".
Seiko Astron. The world leader in GPS Solar technology.
In 2012, Seiko demonstrated its leadership in high technology watchmaking with the world's first GPS Solar watch. By connecting to the GPS network, Astron adjusts at the touch of a button to every time zone on earth and, by taking all the energy it needs from light alone, never needs a battery change. It offers local time with atomic clock precision on your wrist, wherever you are on earth. Today, eight years on, the latest generation of Astron GPS Solar technology powers the new Kintaro Hattori 160th Anniversary watch and joins the long list of horological innovations, including the world's first quartz watch in 1969, that exemplify Kintaro's philosophy and have kept Seiko at the forefront of watchmaking technology.
Note: If there are changes in the region / time zone / DST, manual selection may be required.
The watch case and bracelet are in titanium with a scratch-resistant hard-coating. The bezel is made from Zirconia ceramic and has sixteen facets, one for each decade since Kintaro's birth. With its deep black tones, gold tone accents and high gloss bezel, the watch has a commanding presence on the wrist that befits its heritage.
The case back carries Kintaro's name and three reminders of his legacy. The trademark "S" that he registered in 1900 occupies the center of the case back. His motto "One step ahead of the rest" appears above it and the name Seiko which was first used in 1924 takes pride of place on the rim.
The watch is offered in a special presentation box with a commemorative "S" mark badge and includes a card carrying a message from Kintaro's great-grandson and the company's current Chairman & CEO, Shinji Hattori. It will be available in the month of Kintaro's birth, October, at Seiko Boutiques and at selected retail partners worldwide.
Kintaro Hattori. Businessman, visionary, watch industry pioneer and philanthropist.
1860 Kintaro was born in Ginza, Tokyo.
1881 He establishes his company K. Hattori and opens a shop selling and repairing clocks and watches in Ginza, Tokyo.
1892 He establishes the Seikosha Factory.
1895 Kintaro opens a store at the corner of Ginza 4 chome and produces the company's first pocket watch, Timekeeper.
1905 Now the largest watch & clock dealer in Japan, Kintaro opens sales agencies in Shanghai and Hong Kong.
1913 The Laurel, Japan's first wristwatch, was introduced.
1923 The Seikosha factory and the offices of K. Hattori & Co Ltd. burn down in the fire that devastated Tokyo after the Great Kanto Earthquake on September 1. Kintaro immediately started to re-build them and won the trust of the public by publicly offering to replace free of charge about 1,500 watches and clocks that were to be repaired but were destroyed by the fire.
1924 Kintaro launches the first watch to carry the SEIKO name.
1930 He establishes the Hattori Hokokai Foundation to provide scholarships and public works support. The Foundation is still active today.
1932 Kintaro completes a new building on the same site as his original headquarters. Today, it is home to Wako which is a wholly owned subsidiary of Seiko Holdings Corporation and is a luxury specialty retail store.
1934 Kintaro dies at the age of 73.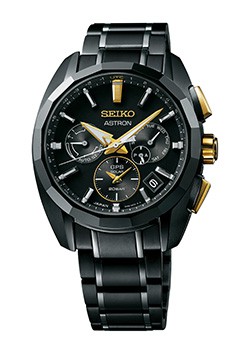 Seiko Astron GPS Solar Kintaro Hattori 160th Anniversary Limited Edition
Caliber 5X53
GPS controlled time and time zone adjustment
Dual-Time with AM/PM indication
Perpetual calendar correct to Feb 2100
Automatic DST adjustment function
High Speed Time Zone Adjustment
Time Transfer Function
Signal reception result indication
World time function (39 time zones)
Power save function
Accuracy: ±15 seconds per month (without receiving a GPS signal and at temperatures between 5°C and 35°C)
Specifications
Titanium case and bracelet with super-hard black coating Zirconia ceramic bezel
Three-fold clasp with push button release
A crocodile strap is also included.
Dual-curved sapphire crystal with anti-reflective coating Diameter: 42.8mm, Thickness: 15.6mm
Water resistance: 20 bar
Magnetic resistance: 4,800 A/m
Limited edition of 2,500
source : Seiko News