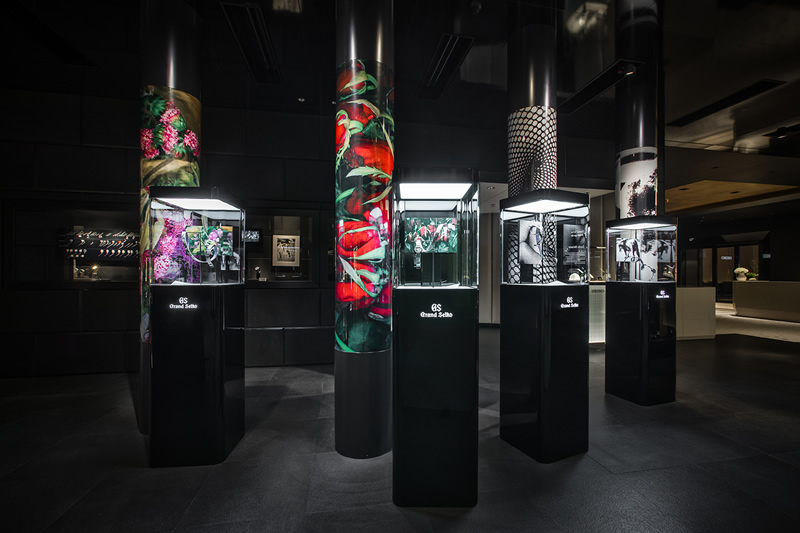 At Baselworld this year, a new sports Grand Seiko Black Ceramic Limited Edition was announced. To celebrate this new step forward in Grand Seiko design, Seiko invited two great masters of contemporary Japanese photography, Daido Moriyama and Nobuyoshi Araki, to contribute their most iconic photographs to the presentation of this limited edition. From this collaboration came a unique creation; four watches that use some of the most well-known works of Moriyama and Araki on extra-length straps.
Moriyama provided shots of fleeting expressive moments captured during his wanderings in urban landscapes. The black-and-white photographic sensuality and graphical patterns leave an unforgettable impression. Araki, whose work has always celebrated eroticism, sex and death, selected flowers, a beautiful symbol of life, as a motif. The vivid colors portray the vibrant energy of the flowers.
Two of the Black Ceramic Limited Edition, chronograph versions, will be launched in June 2016 and the other two, GMT versions, launched in July. As a special gift, an additional regular length strap featuring an image of each photographer's work will be given with each watch.
Please visit the Grand Seiko "Avant-garde" special page: http://www.grand-seiko.com/avant-garde/
Black Ceramic Limited Edition: http://www.grand-seiko.com/collection/black-ceramic/
About the photographers
Since 1964, Daido has had a radical impact on the photographic and art world in both Japan and in the West, with his expressive style of rough, blurred and out-of- focus and of quick snapshots taken without looking in the viewfinder. Moriyama has global recognition, with a record of solo and group exhibitions worldwide, including a joint retrospective with William Klein at the Tate Modern 2012. He has published a variety of photobooks and photo-essays and his work is held in many collections, both public and private. Currently and until June 5, an exhibition of his work is being held at the Fondation Cartier in Paris.
Receiving high acclaim since the 1970s for photographic works that portray an exceedingly intimate relationship between him and the female subjects he captures, Araki has established his very own world of photography that projects an intense air of Eros and Thanatos through images such as those of alluring flowers, skyscapes, the streets of Tokyo, and even his cat! He has published over 450 books of his work, and has simultaneously held numerous exhibitions both throughout Japan and abroad. Araki is recognized internationally as one of the leading figures of post-war Japanese photography. An exhibition of Araki's work is currently being held at the Guimet Museum in Paris. It runs until September 5.